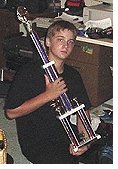 Hi... My name is Dillon Baird, and I am a 9th grade student at Desert Hot Springs High School. I was recently interviewed and accepted to participate as a member of the People to People Student Ambassador Program to Australia and New Zealand this summer. The objective of the program is to promote international understanding while building leadership skills among America's youth. The 20-day experience includes meetings with government officials, interaction with other students my age, educational activities, and home stays with host families.
This last summer I had the great opportunity to compete in The National Debate Tournament in San Antonio, Texas with my debate team from Desert Springs Middle School. My teammate and I took home first place in the Public Forum category and with help, lead our school team to fourth place in the nation. I believe this event played a part in leading up to my recommendation for the People to People Student Ambassador program.
People to People Student Ambassadors are carefully interviewed and evaluated before their acceptance and I am honored to have been selected. Personally, I am looking forward to broadening my perspectives of the world and gaining a better understanding of the South Pacific history and culture. Upon my return, I plan to share my experience with schools and civic clubs in our community. As an Ambassador, I can also earn high school and college credit because of the many educational elements in my program.
Please take a few moments of your time to learn about my background and the People To People Program in the top menu. I was required to seek financial sponsors to help me with tuition, and with the assistance and inspiration of Bill Effinger made the mark by the end of May. A big "Thank You!" to everyone that helped this become a reality. To follow along with me on my journey, visit the The Experience page often.